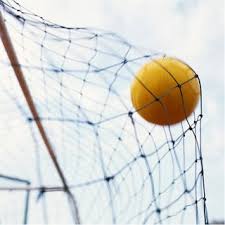 I, from the beginning realized that I'm not a good futsal player. And now, for the Supremo games, they wanted to send 3 groups for female team. Fine. All the star players in one group, the useless ones in one group, and another one is for the bimbos. They said, we play for fun. They said, it's the last game we gonna play here in Manipal, so let us just play!
I know I'm not a good player. I know I'm just the black sheep of the team. But then, when things like this happen, it's not that I'm backstabbing anyone. I don't mean to hurt anyone. I just don't feel like playing anymore. The 'fun' part is missing already. How to make it come back? How to make me feel like enjoying the game again? I like futsal. Thanks to Sera for inviting me once upon a time and since then, I never missed playing futsal in any tournaments. Now, even the bimbos team is well-played than the team which I was put into to play tomorrow; who never played together except once - on the eve of the tournament day. So tomorrow, just see how we are going to play. Making fun of ourselves, in front of the juniors and our own batch mates. Like clown among the spectators. Just watch.
p/s: Sorry to my 'team'. I'm not healthy right now as healthy is defined as a state of complete physical, mental and social well-being.